Name: Emily Dickinson
Occupation: Poet
Date of Birth: December 10th 1830
Place of Birth: Amherst, Massachusetts,USA
Interesting fact:
The large house that Emily Dickinson lived most of her life in overlooked a graveyard.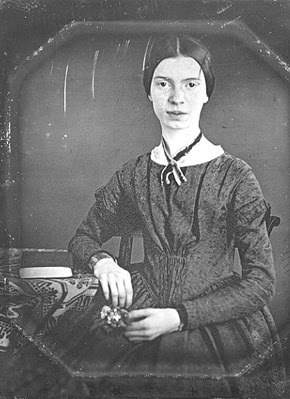 About The Poet Emily Dickinson:
Emily Dickinson was an extremely reclusive person, meaning she rarely left her home and most of her friendships were communicated only through written letters. During her early years she went to several boarding schools, but eventually ended up studying at home. Ms. Dickinson had a brother and a sister and a dog named Carlo that she named after a character in Charlotte Bronte's book Jane Eyre. She never married and had no children.
Most of Emily Dickinson's work wasn't found until after her death when her sister Lavinia discovered over 1800 poems written in handmade books, so her fame and recognition as one of the most loved American poets wasn't known to her during her lifetime. The last two decades of Emily Dickinson's life she rarely left her home and eventually rarely left her room. She would only talk to visitors through her closed door.
Emily Dickinson's poetry is a passionate and vivid view into a very private life and perspective embued with emotions and struggle that most people can relate to and some point during their lives. One of her most famous and beloved poems is called Hope, Is the Thing With Feathers.
Poems by Emily Dickinson:
Hope, Is the Thing With Feathers
A Thought Went Up My Mind Today
A Bird Came Down
Faith Is a Fine Invention