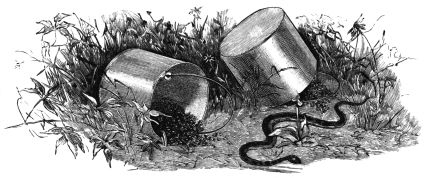 The grass is scorching in the sun;
'Tis summer's hottest weather;
But Rick and Tom start bravely forth
For blueberries together.
Their tin pails glitter in the light,
The dippers in them rattle,
As up the long green lane they go,
Among the browsing cattle.
Close underneath the pasture fence
They find some scattered bushes:
"There is some better place beyond,"
Says Rick, and on he pushes,
Through tangled brake, o'er stumbling stones,
And up some steep black ledges,
Where thick the blueberry-bushes grow
Along the rocky edges.
"But these are very dry and small,"
Says Tommy: "I would rather
Look round and find some better place,
And larger berries gather."
Down the sharp rocks, across the brook,
And through a bog, they ramble:
They find some berries, big and blue,
Outpeering from a bramble.
"These dreadful running blackberry-vines!"
Says Rick: "they are so prickly!
I will not stop; some better place
We surely shall find quickly."
Through the long field they wandering stray,
In the hot sunshine going:
"Beneath the wood-lot trees," says Tom,
"There must be nice ones growing."
And so they find them thick and ripe;
But, from among them darting,
A hissing adder lifts its head,
And, suddenly upstarting,
The frightened boys drop both their pails,
The berries from them spilling.
"Let's hurry home," says Tom. Says Rick,
"I'm sure that I am willing."
So back they come with tattered clothes,
Scratched, sunburnt, soiled, and tired;
"To go again," says pouting Tom,
"I never could be hired."
"Oh, dear! oh, dear! oh, dear!" cries Rick,
A doleful little fretter,
"We've lost each good place we have had,
By looking for a better!"