Name: Robert Louis Stevenson
Occupation: Writer/Poet
Date of Birth: November 13th 1850
Place of Birth: Edinburgh, Scotland
Interesting fact:
Robert Louis Stevenson believed that some of his stories were told to him by little people in his dreams.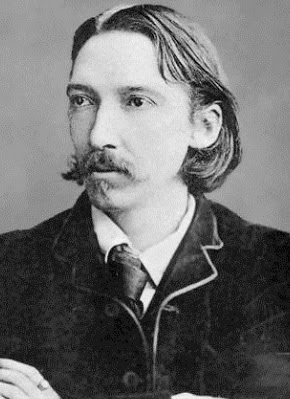 About the Poet Robert Louis Stevenson:
Robert Louis Stevenson came from a long line of Lighthouse engineers, and he was expected to follow in those steps for making a living, but having spent many of his summers with his mother's father who was a professor of philosophy, minister and storyteller, Stevenson grew to love stories and imagining. He tried to please his father and mother by getting a degree in Law, but his love for literature won out and he began writing and traveling.
A trip from Europe to America, following his future wife, almost killed him and weakened his overall health for the rest of his life. After moving his new family back to Britain (his wife had a son from a previous marriage) Robert Louis Stevenson wrote some of his most famous works, Treasure Island and Doctor Jekyl and Mr. Hyde.
After the death of his father, Robert Louis Stevenson headed back to America with his family. On his way he sailed a yacht around the Somoan islands near Hawaii and ended up purchasing an estate there. He became an active citizen, involving himself in island politics and was well loved by the islanders who later erected a statue in his honor that still stands today.
Poems by Robert Louis Stevenson:
My Shadow
The Unseen Playmate
The Land of Counterpane
The Land of Nod