Name: Ella Wheeler Wilcox
Occupation: Writer/Poet
Date of Birth: November 5th 1850
Place of Birth: Johnstown, Wisconsin USA
Interesting fact:
Ella Wheeler Wilcox lived on a farm during the early part of her childhood.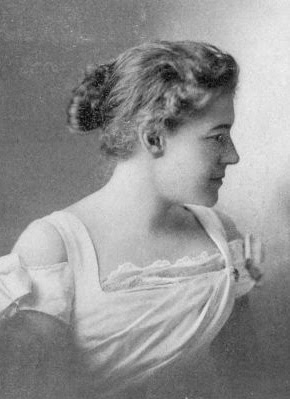 About the Poet Ella Wheeler Wilcox:
Before she graduated high school Ella Wheeler Wilcox became well known in her hometown for her poetry. By the time she was thirty-three years old she wrote her most famous poem called Solitude. The first four lines of this poem are known around the world,
Laugh, and the world laughs with you;
weep, and you weep alone.
For the sad old earth must borrow its mirth
but has trouble enough of its own.
She thought of these lines after an encounter on a train with a grieving widow.
Ella Wheeler Wilcox was considered a poet of popularity versus a poet of literary focus, meaning her work didn't always follow the methods that scholars deemed appropriate for poetic works, but the people loved her. Her positive and happy messages of hope and courage were celebrated and admired. She captured real life struggle and gave it a sense of optimism.
Tragedy and struggle were a big part of Ella Wheeler Wilcox's own life. Her infant son died shortly after birth, and later in life, after over thirty years of marriage her husband died as well. She worked through her sorrow with spiritual studies and her poetry, producing amazing works of hope and possibility.
Poems by Ella Wheeler Wilcox: