Name: Christina Rossetti
Occupation: Poet
Date of Birth: December 5th 1830
Place of Birth: London, England
Interesting fact:
Christina Rossetti was actively against cruelty and experimentation of animals.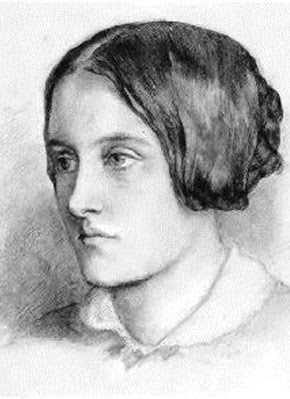 About The Poet Christina Rossetti:
Christina Rossetti had two brothers and one sister. Her entire family was in one way or another involved in art and poetry. Her brother Dante painted numerous portraits of Christina. The one on this page is painted by him. As a young child, before she could even write Christina would tell her mother imaginative stories.
During her late teens, Christina Rossetti had three suitors asking her hand in marriage, but in the end she refused all three and never married. She immersed herself in writing poems and short stories for both adults and children and eventually became highly esteemed for her work.
Christina Rossetti was a highly involved activist for many causes. For eleven years she worked in a home for women that were outcasts of society because of their lifestyles. She also spoke out against slavery.
Ms. Rossetti's most famous work is The Goblin Market and Other Poems. She's renowned for the struggle and passion that can be felt in her writing and for her natural ability to master her craft. As a poet she's been compared to other famous writers like Emily Dickinson and Elizabeth Barrett Browning.
Poems by Christina Rossetti:
How Many Seconds in a Minute
What Does the Bee Do?
The Horses of the Sea
A Christmas Carol