Name: Algernon Charles Swinburne
Occupation: Writer/Poet
Date of Birth: April 5th 1837
Place of Birth: London, England, Great Britain
Interesting fact:
Algernon Charles Swinburne was a daring horseman who rode across the Moors.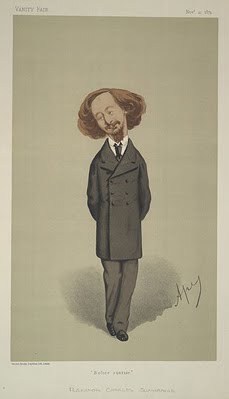 About The Poet Algernon Charles Swinburne:
For five years straight Algernon Charles Swinburne was nominated for the Nobel Peace Prize in literature. He was well loved by contemporary authors and poets. H.P. Lovecraft said that Swinburne was the last truly amazing poet next to Edgar Allen Poe. Swinburne grew up in London but loved Northumberland, where he stayed summers with his grandfather. Many of Swinburne's most famous poems speak of his love and loyalty of this region of England.
Swinburne attended college at Oxford but was kicked out when he openly supported the assassination attempt on Napolean III. Even though he was eventually let back in Oxford he never finished his degree. He accumulated numurous famous literary friends of the time and developed an amazing poetic style that defined him as one of the great poets.
Swinburne developed his own unique style of writing poetry called roundel derived from the French style Roundeau. Some of his most well loved poems are written in this style. He also contributed to the famous 11th edition of the Encyclopedia Britannica. By middle age Swinburne had a serious drinking problem that took a toll on his overall health. He moved in with a friend and focused on being a respected citizen in society. He died when he was seventy-two-years-old.
Poems by Algernon Charles Swinburne:
In a Garden
White Butterflies
After Thanksgiving Dinner
Cradle Songs